Los Angeles Mayor Says Romney "Trotting Out People With A Spanish Surname" To Win Latino Vote
He's in Tampa, he says, in part to show solidarity with those awaiting Hurricane Isaac.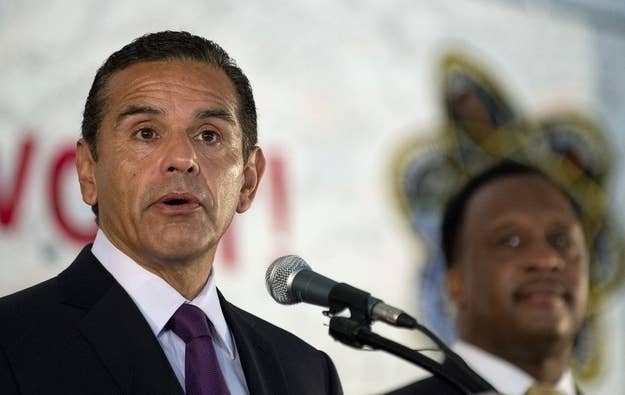 TAMPA — Los Angeles Mayor Antonio Villaraigosa laid into Mitt Romney's immigration policies on Tuesday morning, saying Romney's effort to woo Hispanic voters is falling on deaf ears.
"They can trot out people with a Spanish surname, but people are going to vote...about what they say, what they've done, and what they're gonna do," Villaraigosa told reporters just blocks from the Republican National Convention. I don't think it's going to do much for him."
"What country in the world has ever deported 11 million people," Villaraigosa asked, attacking the plausibility of Romney's immigration plan. "Those 11 million people have 5 million citizen children, they also have 1.5 million or so dreamers...They are losing the demographic, not because of anything except for their policies."
"I think we're going to get close to 70 percent of the Latino vote," he predicted — beating Obama's 67-percent share of the vote in 2008.
Villaraigosa, who has been in Tampa since Sunday to "bracket" the Republican National Convention, said he also a more altruistic motive — showing solidarity with those in the path of Tropical Storm Isaac.
The storm, which is bearing down on New Orleans hundreds of miles to the Northwest, largely missed Tampa and the GOP convention, with sunny skies on Monday and today.
"As much as we're here to compare and contrast, we're also here to say that Democrats and Republicans, locally, at the state level, and at the federal level, are all working together, putting the health and safety of the people in front of this storm first," Villaraigosa said.
Most of the speakers at the Democratic National Committee's press conference mentioned the storm, with former White House Press Secretary Robert Gibbs putting on his old hat and encouraging those who may be affected by it to listen to authorities and take appropriate precautions.