Cheesecake-Stuffed Cookie Cake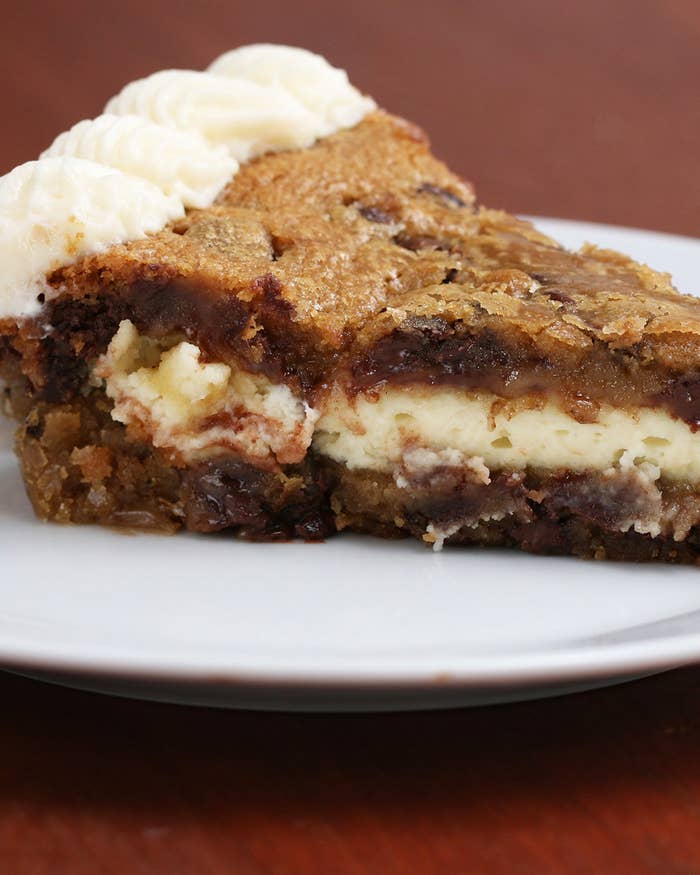 INGREDIENTS
Serves 10–12
For the cookie cake:
32 ounces cookie dough, divided
8 ounces cream cheese, softened
½ cup granulated sugar
1 egg
1 teaspoon vanilla extract
For the cream cheese frosting:
8 ounces cream cheese
4 tablespoons butter
½ cup powdered sugar
1 teaspoon vanilla extract
PREPARATION
1.Preheat oven to 350°F/180˚C.
2.In a bowl, beat 8 ounces cream cheese and granulated sugar until smooth. Add egg and 1 teaspoon vanilla extract, and mix thoroughly.
3.On waxed paper, press 16 ounces of cookie dough into a circle.  Press the remaining 16 ounces of cookie dough into the bottom of a greased pie dish.
4.Spread on cheesecake mixture, then lay on the cookie dough circle.
5.Bake 40 minutes.
6.In a bowl, beat remaining cream cheese and butter until smooth. Add powdered sugar and vanilla, and mix until smooth.
7.Let the cookie cake cool completely, then top with cream cheese frosting.
8.Enjoy!
Want BuzzFeed Tasty right in your inbox? Sign up for our newsletter!