6 Halloween Treats Your Kids Will Love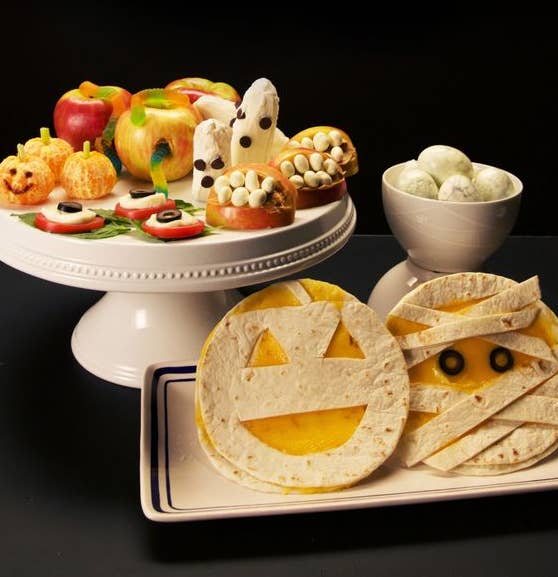 INGREDIENTS AND PREPARATION
Worm in an Apple:
Cut a small hole in an apple. Fill with peanut butter (or sun butter if nut-free). Cut the end off a gummy worm and stick in the hole.
Quesadilla Faces:
Make a quesadilla the way you like. For the top tortilla, cut out a Jack-O'-Lantern face, or cut the tortilla into strips and arrange into a mummy face. Use black olive slices for eyes. Microwave for 30 seconds.
Fruit and Veggie Pumpkin:
Peel a small orange, and stick a piece of celery in the top for a stem!
Monster Mouths:
Slice an apple in quarters and remove the core. cut a right angle piece out of the flesh side of the apple. Spread on peanut butter (or sun butter if nut-free), and place yogurt-covered raisins for teeth.
Banana Ghosts:
Slice a banana in half, cover with Greek yogurt, add chocolate chip (or raisin) eyes and mouth, and freeze for 10 minutes.
Spiderweb Egg:
Take a hard-boiled egg and gently crack it all the way around by tapping it with a wooden spoon. Place in water with the dye color of your choice (we mixed red, green, and blue to make a gray color) for 10 minutes. Peel.
Want BuzzFeed Tasty right in your inbox? Sign up for our newsletter!