Did Manti Te'o Hoaxer Use His Real Life As A Model For Dead Fake Girlfriend?
"That awkward moment when you know the person who is supposedly behind the Lennay Kekua account."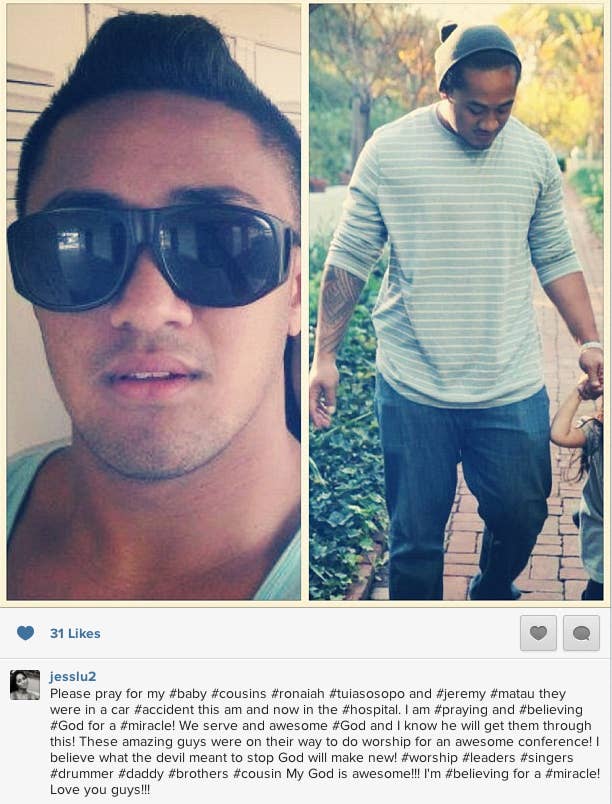 Ronaiah Tuiasosopo, who was first fingered by Deadspin as the man who created Notre Dame star Manti Te'o's fake girlfriend, may have modeled her imaginary backstory on his real life.
The imaginary Lennay Kekua, Te'o said, suffered a car accident in April 2012. Tuiasosopo, BuzzFeed has found, was also in a car accident in March 2012 with members of his family — who have more recently been joking about Tuiasosopo's role in the the Lenny Kekua saga.
A source for the reality TV show The Voice told US Weekly that Tuiasosopo auditioned for the show's upcoming season with a "sob story" about starting a Christian rock band with his cousins and then getting into a "massive" car accident.
"People now think the sob story is fake," the US Weekly source said.
But Tuiasosopo and members of his Christian rock band were in fact in a car accident that left them all hospitalized.
"Please pray for my #baby #cousins #ronaiah #tuiasosopo and #jeremy #matau they were in a car #accident this," reads a tweet on March 23, 2012, from Jessica Lutu, a cousin of Ronaiah Tuiasosopo.
The website Reverb Nation lists Tuiasosopo's self-titled Christan rock band and includes Jeremy Mata'u as a member as well. The band list its manager as Titus Tuiasosopo, Ronaiah's pastor father, and Navy Tuiasosopo, Ronaiah's uncle. The band also lists their hometown as Carson, California, the same city where Lennay Kekua is said to have died.
A Tumblr post from Issac Falealili's sister links Issac Falealili as a member of the crash as well. And numerous photos on Falealili's Facebook page show him in the accident, including a photo with Ronaiah in the background. Instagram posts from a cousin of Issac Falealili also show him recovering in the hospital, and the same cousin also has photos with Ronaiah Tuiasosopo at a USC game.
Tweets from a Twitter handle named @BAMM90745 joke that Ronaiah catfishes Manti Te'o. Ria Falealil's Facebook page shows she is related to Issac Falealili, Ronaiah's apparent cousin.
Ria Falealili also tweeted on Jan. 13: "That awkward moment when you know the person who is supposedly behind the Lennay Kekua account."
The evidence strongly ties Ronaiah Tuiasosopo and members of his family to Lennay Kekua, and in tweets BuzzFeed recently posted about, two people joked on Twitter over a month ago about Tuiasosopo being the mastermind behind Kekua. How much Manti Te'o knew and when he found out remains unclear, and that's the question on everyone's minds.