Don't Attack Obama For Talking To "Glamour"
The magazine publishes straightforward political coverage for an engaged audience of millions of women. Romney's turn.
Of all the things Republicans attack President Obama for, his decision to give an interview to Glamour, which reaches millions of women in print and online each month, may be one of the hardest to justify. Editor-in-chief Cindi Leive recently interviewed Obama in Portland, Oregon for the November issue — news some Republicans are turning into a talking point about how Obama isn't serious about the Serious Issues up for debate this election. "President Obama continues to subject himself to the toughest of questions from the most rigorous of publications," the National Review's Jim Geraghty wrote, sarcastically. "The grumbling about Obama's fluff interviews would be quieter if the country were in a time of peace and prosperity, or if he hadn't gone close to eight weeks without a press conference," he added in a follow-up email to WWD.
But like other fashion magazines — Vogue, for example — Glamour has a history of highlighting politicians (and their wives and families) from both parties. In 2008 Lieve interviewed then-president George W. Bush for Glamour. He talked a lot about his wife, Laura, and his daughter, Jenna. Lieve asked him about his smoking habit and his decision to veto a tax on cigarettes that might have encouraged some smokers to quit. It was mostly light-hearted, but it wasn't devoid of political discussion. And with all the candid quotes he gave about his wife and daughters, the interview made him seem like an actual human who, oh hey, also understands women.
Glamour is evidently aware that its millions of readers span both parties and seems anything but interested in alienating any of them. Take a look at their political news coverage online, and you'll find unbiased articles on the Republican National Convention, Paul Ryan's appointment as Romney's running mate, and the Supreme Court's ruling on the Affordable Care Act. The readers of these posts, judging by their responses, are an engaged group. Take a look at the comments on a story headlined, "BREAKING: Paul Ryan Is Mitt Romney's VP Pick! Well, What Are Your Thoughts?"
And here are some responses to a poll Glamour.com ran about the Affordable Care Act, two weeks after the Supreme Court upheld it: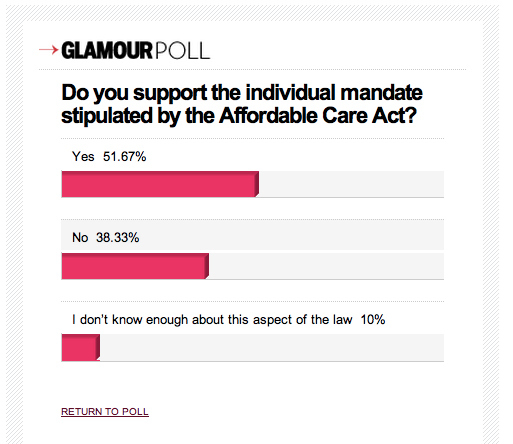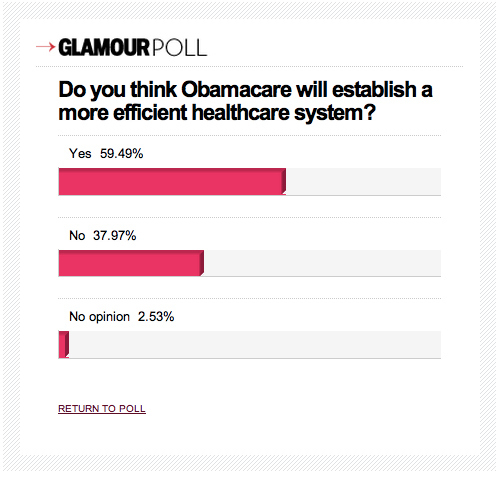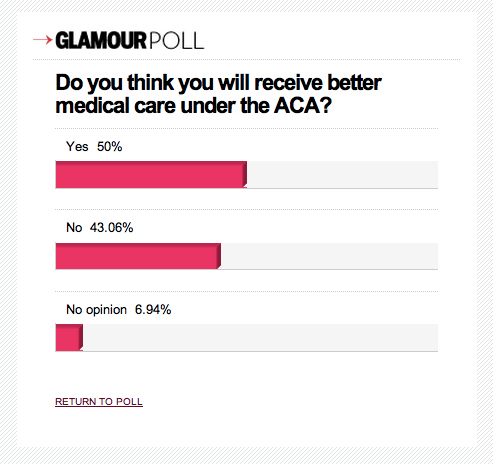 And under a post recapping the aftermath of Todd Akins's "legitimate rape" gaffe, you'll find this heartfelt response: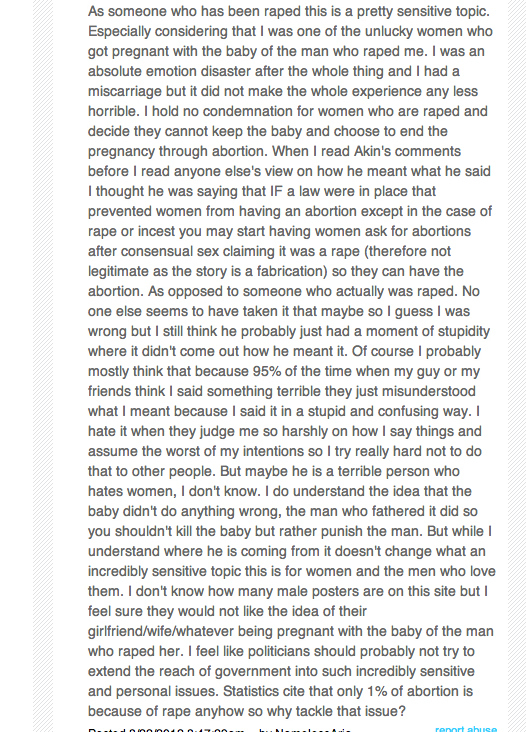 Indeed, both Obama and Romney have some convincing to do if they want the Glamour audience to vote for them and other members of their respective parties. Come election day, no one's going to care if the deciding votes were cast by people who read fashion magazines or not.
Glamour told WWD that they have been trying to nail down an interview with Romney as well but haven't been able to do it yet (it took five months for them to secure Obama). Maybe it's time for Romney to accept their invitation, too.